Access: Susan Sarandon & Rosa Clemente On Raising Awareness For Puerto Rico At The Golden Globes
---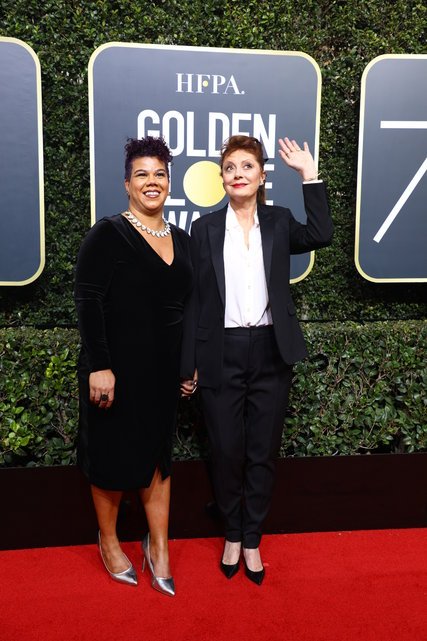 ""So honored to attend tonight's Awards with @rosaclemente, a Puerto Rican activist & journalist who has come to remind us that PR is still in crisis," Ms. Sarandon, a nominee for "Feud: Bette and Joan," tweeted about Ms. Clemente, a community organizer who is focused on political prisoners, voter engagement and Puerto Rican independence, and who also ran for vice president on the Green Party ticket in 2008."
---

An activist shares her experience talking about sexual assault and her work to revitalize Puerto Rico at the awards ceremony. By Barbara Gonzalez
On Sunday (January 7), Michelle Williams, Emma Watson, Susan Sarandon, Meryl Streep, Laura Dern, Shailene Woodley, Amy Poehler, and Emma Stone were joined by activists Tarana Burke, Marai Larsai, Rosa Clemente, Ai-Jen Poo, Mónica Ramírez, Calina Lawrence, Billie Jean King, and Saru Jayaraman at the Golden Globes.
Rosa Clemente is an Afro-Puerto Rican organizer who has dedicated her life to combating the political struggles facing Black and Latinx people. Rosa has been a relentless, unstoppable force in activism, academia, and politics for over 20 years. She is a leading scholar on the issues of Afro-Latinx identity and political issues in hip-hop. She ran for Green Party Vice President in 2008 with Cynthia McKinney, making them the first women of color ticket in American history. Most recently, Clemente started a project called "PR on the Map," where she and a group of Latinx journalists went to Puerto Rico post-Hurricane Maria to tell the untold stories of the commonwealth's people.
Rosa talked to CASSIUS about the events leading up to the Golden Globes, how her work was received by those in attendance, and her most memorable moments of the night.
---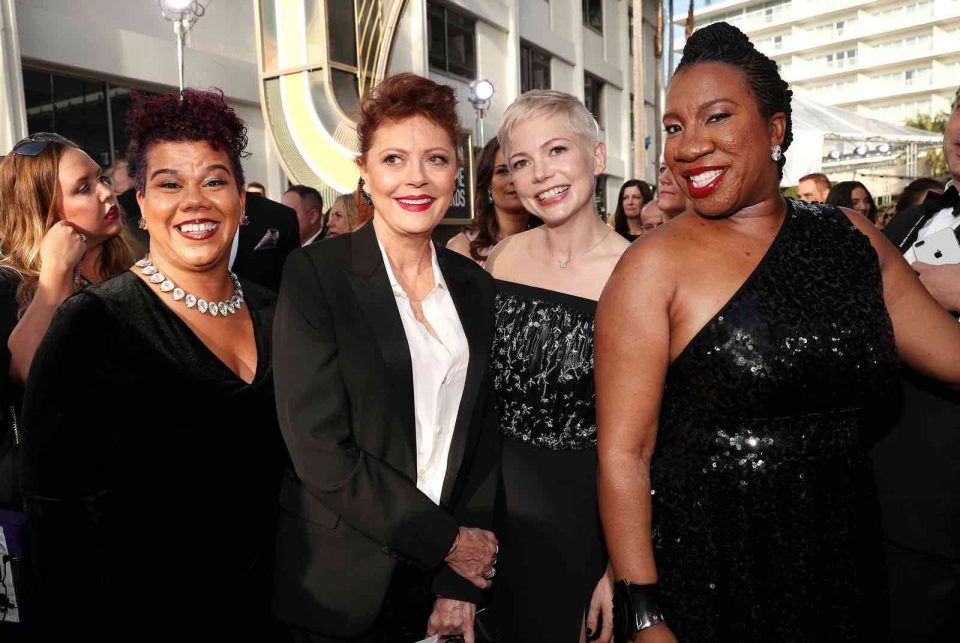 Activist Rosa Clemente (far left), actors Susan Sarandon and Michelle Williams and activist Tarana Burke (far right), arrive to the 75th Annual Golden Globe Awards held at the Beverly Hilton Hotel. Clemente is an organizer, political commentator and independent journalist. Burke is the founder of the #MeToo. movement and co-founder of Just Be You Inc.
---
Susan Sarandon, who was nominated for a Golden Globe for her performance in Feud: Bette and Joan, brought Celemente as her plus-one Sunday night. Clemente is a community organizer, political commentator and 2008 vice presidential candidate for the Green Party ticket. Among the issues Clemente focuses on are voter engagement and freedom for political prisoners.
---
At Sunday night's Golden Globes ceremony in Hollywood, actors embraced the #MeToo movement and called for gender and racial justice in the post-Harvey Weinstein era. Eight actresses brought social justice activists with them: Michelle Williams brought #MeToo movement founder Tarana Burke; Meryl Streep walked the red carpet with Ai-jen Poo, director of the National Domestic Workers Alliance; Shailene Woodley was accompanied by Suquamish Tribe member Calina Lawrence; Emma Stone brought tennis champ and LGBT advocate Billie Jean King; Susan Sarandon brought Puerto Rican media justice and former Green Party vice-presidential nominee Rosa Clemente; and Amy Poehler's guest was Saru Jayaraman, president of Restaurant Opportunities Centers United. For more, we speak with Rosa Clemente and Saru Jayaraman.
---
Meet the badass activists who took over the #GoldenGlobes red carpet pic.twitter.com/2FeiTvRaQK

— NowThis (@nowthisnews) January 8, 2018