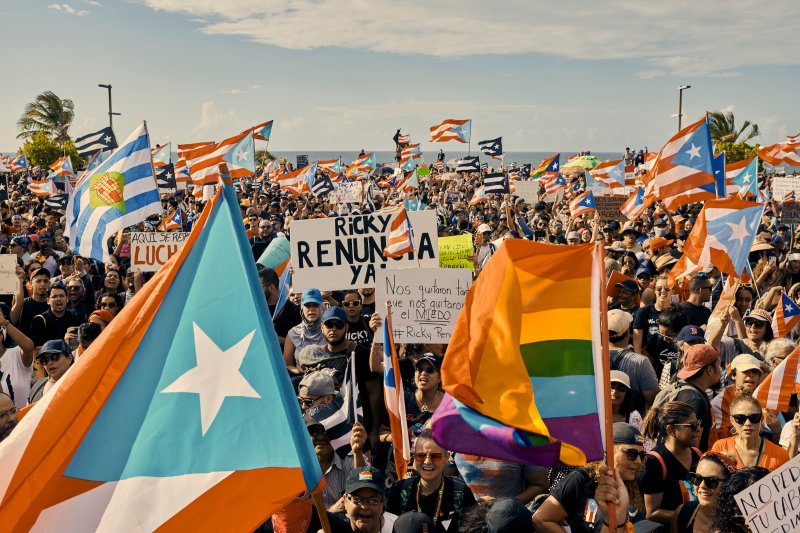 Hundreds of thousands of Puerto Ricans are expected to gather for the country's largest protest in recent memory on Monday, declaring that they won't stop until Gov. Ricardo Rosselló resigns.
The mass protest comes a day after Rosselló announced he would not resign, but he would step down as leader of the New Progressive Party and that he would not seek re-election. "To every Puerto Rican—I have heard you, I have committed errors but I am a good man who has a great love for his island and it's people," the San Juan governor said Sunday. "In spite of everything, I recognize that apologizing isn't enough, that only my work will help restore confidence… facing that scenario, I announce to you that I will not seek re-election next year."
Rosselló said he wants to leave his predecessor a good economy and have a smooth transition, but protestors say that there will be no peace until he resigns. Puerto Ricans who are protesting say they feel Rosselló's announcement was insulting, and it has only fueled their resolve.
Today's mass protest comes after nearly two weeks of marches targeted at the governor, have been joined by some of the island's biggest stars, including Bad Bunny and Ricky Martin. The protests began after offensive chat messages between Rosselló and his allies leaked to the media. The messages exposed what protesters called a reprehensible indifference to Hurricane Maria victims, as well as alarming instances of bigotry and sexism. And following the arrests of two of Rosselló's top officials on charges of fraud, the messages inflamed anger over what many say is the Puerto Rican government's incompetence and corruption following the devastating 2017 storm and years of economic trouble.