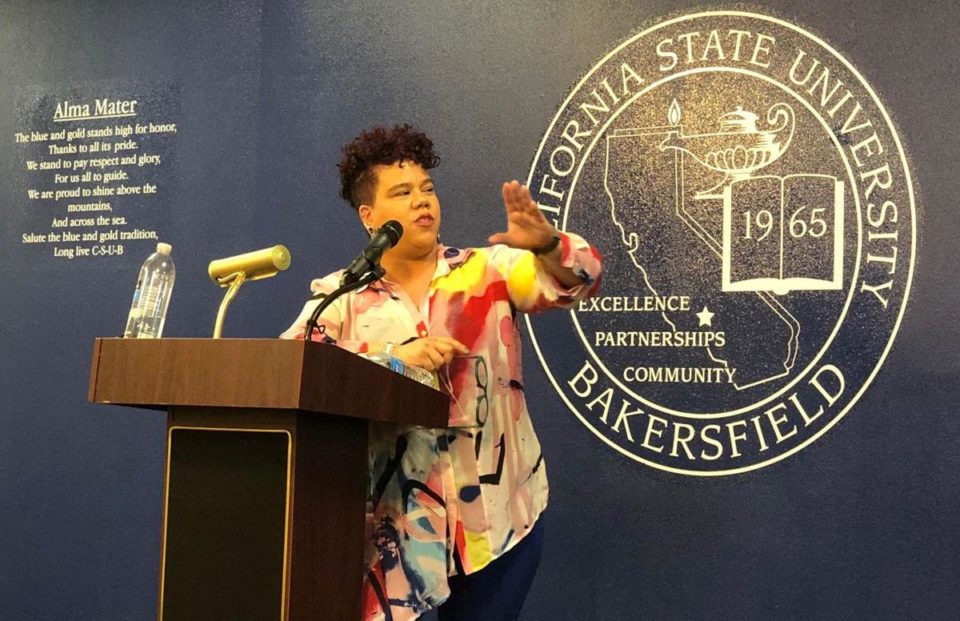 Originally Published on Bakersfield.com
Activist Rosa Clemente did not become the person she is today without some bumps along the road. The former vice presidential nominee and her suite mates were once accused of stealing from their white counterparts while at State University of New York at Albany.
"All three of us had grown up in Westchester, so when the director of housing was like, 'Just tell us you did it,' I was like, 'Why would I steal, my parents got mad dough?'" she said to a crowd of 50 people Thursday at Cal State Bakersfield. "(My friend) goes, 'Oh I see what's going on. We're the only people of color in this suite.'"
The next day she said all three joined the Black Student Union and Latino Student Union on campus.
Clemente stopped by campus as part of her "Truth Be Told" tour to speak to students about societal problems seen throughout her career and encourage them to become activists.
The talk was part of the CSUB Interdisciplinary Studies' "Local Struggles, Critical Dialogues" lecture series and hosted by several student organizations.
She began her talk by discussing the makeup of college campuses throughout the country and how diversity among faculty is still an issue.
"We got here because of student struggle. There would be no faculty that would represent us, and to this day there is not enough faculty that looks like us," she said. "I have had students where I have been the only faculty of color in New York State and Cal State LA that they have."
An Afro-Puerto Rican born and raised in the South Bronx in New York, she "grew up proud to be Puerto Rican." It was not until she went to college where she learned the history of the Caribbean island — including the 1937 Ponce Massacre where 21 people were killed and forced female sterilization practices from the 1930s to 1970s — that led to the start of her activist roots.
In 2008, she was named former Congresswoman Cynthia McKinney's running mate for the Green Party, making her the first ever Afro-Latina woman to run for vice president of the United States for the party. After their loss, she and McKinney decided to pursue their doctorates, which peers did not accept.
"The vitriol that we received from our own people was probably the hardest time of my life," she said.
Activism does not stop for her despite her busy schedule. She attended the third day of protests in Ferguson, Mo., visited Puerto Rico following Hurricane Maria and started the project PR on the Map. She even joined actress Susan Sarandon and other activists at the 2018 Golden Globes.
Michael Le Beau, a member of the Black Student Union and United Now for Immigrant Rights at CSUB, said his similarities to Clemente drew him to her talk.
"What attracted me mostly was her position as an Afro-Latina woman because it's a unique experience," he said. "As an Afro-Latino, I resonate with that."
Just as she found her foundation for activism in college, she wants all students to do the same.
"My job is to make you an organizer," she said. "My daughter is 14 and every day I tell her, 'Go disrupt something.'"